This webinar was recorded live on February 13, 2021, and is approximately 2 hours and 45 minutes in length. This is a non-CME course. 
Registration
$0 - AACS Member (Training Fellow or Resident)
$110 - AACS Member (Physician or Allied Health)
$220 - Non-Member Practitioner
Target Audience
Practitioners in the field of cosmetic surgery including, but not limited to, dermatology, oral and maxillofacial surgery, otolaryngology, general surgery, ophthalmology, and plastic/reconstructive surgery.
Recorded Live Surgery and Presentations
Resurfacing: Spanning the Full Range of Indications, Results, and Downtime with Full-Field ER: YAG 2940nm 
Joel Cohen, MD, FAAD, FASCS, FACMS
Best Resurfacing Tools 
Amy Forman Taub, MD, FAAD
Scoop It All Out: Best Devices for Fat Removal 
Rania Agha, MD, FAAD, FAACS
Renuvion Skin Tightening 
Suzan Obagi, MD
New Concepts in Skin Tightening and Fat Reduction 
Michael H. Gold, MD
Combination Treatments for Rejuvenation 
Sulemia Arruda, MD
Devices for Hair Transplantation
Neil Sadick, MD, FACP, FAACS, FACPh, FAAD
Moderated Panel Discussion 
All Speakers
Joel Cohen, MD, FAAD, FASCS, FACMS
Dr. Cohen is an internationally-recognized expert on skin cancer and aesthetics. Dr. Cohen has been named a US News and World Report Top Dermatologist, a Castle Connelly Regional Top Doctor (2013-2021), and has been voted by his peers as one of Denver's Top Doctors in 5280 magazine NINE times (including listings for cosmetic procedures as well as dermatology). He is Board-Certified by the American Board of Dermatology, and has completed a Dermatologic Surgery and Aesthetic fellowship in Mohs micrographic surgery (for the treatment of facial skin cancers), cutaneous oncology, facial reconstruction, cosmetic surgery and laser surgery. He is the Director of AboutSkin Dermatology and DermSurgery in Greenwood Village and Lone Tree, Colorado. He did his undergraduate studies at the University of Michigan and Brandeis University—where he graduated Phi Beta Kappa and Magna Cum Laude. He received his MD degree at Mount Sinai School of Medicine in New York City, and graduated with Honors. He also participates in many cosmetic clinical trials ranging from injectable cosmetic agents to lasers and topical therapies – – including many clinical studies and FDA-trials such as Restylane, Perlane/Restylane Lyft, Radiesse, JuveDerm, Voluma, Botox, Dysport, Xeomin, Jeuveau, Revance and Latisse as well as multiple laser studies (for vessels, pigment and resurfacing), skin tightening (Ulthera and Genius RF), and topical skin-care studies (including pre-cancer lesions and acne).
Amy Forman Taub, MD, FAAD
Dr. Taub is a board-certified dermatologist who founded Advanced Dermatology and skinfo® Specialty Skincare Boutique in Lincolnshire, Illinois in February of 2003 and Glencoe, Illinois in September of 2013. Advanced Dermatology is a state of the art medical and cosmetic dermatology practice nationally recognized for excellence in dermatologic care, specializing in aesthetic dermatology, including injectable fillers and neuromodulators, laser surgery including resurfacing, non-invasive body shaping, laser resurfacing, treatments for acne scarring and procedural treatments for acne, photodynamic therapy and cosmeceutical-grade skincare.
Dr. Taub also founded the website, skinfo.com in 2002, the second skincare store on the internet. Additionally, she opened a skincare boutique called skinfo® which can be found in the same locations as her practices.  skinfo® employs certified estheticians that offer expert help in constructing skincare regimens unique to a patient's individual needs. skinfo® and skinfo.com, both offer physician-dispensed and cosmeceutical-grade skincare products and product information to the public.
Born and raised in the Chicago area, Dr. Taub graduated from Northwestern University Medical School in 1985 and completed her internal medicine internship and dermatology residency at its affiliated hospital, Northwestern Memorial, in 1989. Dr. Taub is currently an Assistant Clinical Professor at Northwestern University Medical School. Prior to opening Advanced Dermatology, Dr. Taub was the Medical Director for the Division of Dermatology of Northwestern Memorial Physicians Group.
Rania Agha, MD, FAAD, FAACS
Dr. Agha is a double board-certified dermatologist and cosmetic surgeon, and a fellow of the American Academy of Cosmetic Surgery and the American Academy of Dermatology. She has been in private solo practice of Dermatology and Cosmetic Surgery for ten years. Dr. Agha is also an assistant clinical professor at the University of Illinois at Chicago Department of Dermatology and Jesse Brown VA Medical Center in Chicago. Dr. Agha is a graduate of the Chicago Medical School, Northwestern University, and Indiana University School of Medicine. She has an extensive research background and published numerous scientific articles in peer-reviewed journals. Dr. Agha currently serves on the board of trustees as a treasurer for the American Academy of Cosmetic Surgery, as the Young Physician Section Delegate for the American Academy of Cosmetic Surgery at the American Medical Association, and as a member of the Dermatology Section Council. She also serves as a skin cancer ambassador and a volunteer for the SpotMe® free skin cancer screening program for the American Academy of Dermatology. The American Academy of Dermatology president recognized her in a presidential award for her skin cancer detection volunteer work. In addition to treating patients, Dr. Agha conducts clinical research for various skin diseases, including but not limited to acne, alopecia areata, eczema, and many others.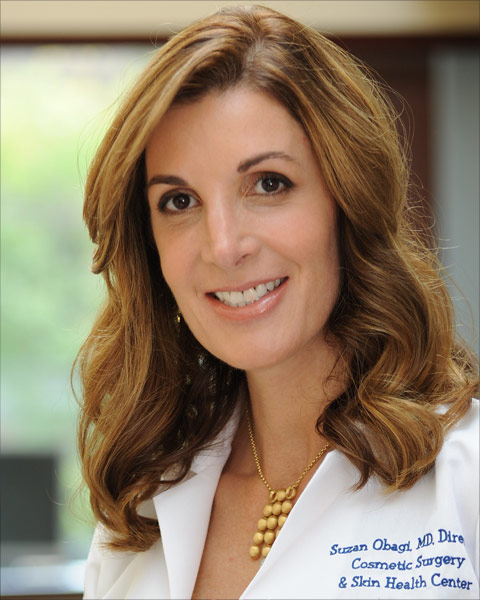 Suzan Obagi, MD, FAACS
Dr. Obagi is an associate professor of dermatology and plastic surgery at the University of Pittsburgh School of Medicine and director of the UPMC Cosmetic Surgery and Skin Health Center. Her academic commitments include training residents from both the dermatology and plastic surgery departments at UPMC.  She is the Chari of the Education Work Group with the American Society of Dermatologic Surgery.  She is a past-vice president of the board of directors of the American Board of Cosmetic Surgery and past president of the Cosmetic Surgery Foundation. Dr. Obagi has been quoted extensively in print publications and in media interviews at a national level.  Dr. Obagi has written many articles and book chapters on skin health restoration, autologous fat augmentation (fat transfer), Botox and soft tissue fillers, chemical peeling, dermabrasion, and lasers. Additionally, Dr. Obagi has been invited to give lectures on various medical specialties on these topics.
While Dr. Obagi's emphasis is on the scientific approach to skin health restoration, she continues to be abreast of the latest technological advances in cosmetic surgery including the use of the latest laser and radio-frequency technologies. Her research interests include ways to improve adipocyte (fat) survival after transplantation to further enhance the results of autologous fat augmentation surgery. In addition, she has done research on patient safety in skin resurfacing, laser treatment for improving Raynaud's phenomenon, and ultrasound measurement of long-term fat graft survival after transplantation.  After receiving her medical degree from the University of Pittsburgh School of Medicine, Dr. Obagi completed a medical internship at UC Irvine and her dermatology residency at Pitt. She also did a cosmetic surgery fellowship approved by the American Academy of Cosmetic Surgery at Pitt. Dr. Obagi received bachelor of arts and bachelor of science degrees from UC San Diego.
Dr. Obagi's academic commitments include training medical students, residents, fellows, and physicians from around the world in cosmetic and laser surgery. She has published in peer-reviewed journals and authored many textbook chapters on dermatologic, plastic, and cosmetic surgery. She has served as the president of the American Academy of Cosmetic Surgery, vice president of the American Board of Cosmetic Surgery, and president of the Cosmetic Surgery Foundation.
Michael H. Gold, MD, FAAD
Dr. Gold is the founder of Gold Skin Care Center, Advanced Aesthetics Medical Spa, The Laser & Rejuvenation Center, and Tennessee Clinical Research Center located in Nashville, Tennessee. Dr. Michael Gold is also a Clinical Assistant Professor at Vanderbilt University School of Nursing and an Adjunct Assistant Professor at Meharry Medical College, School of Medicine, which is also in Nashville. He is a Visiting Professor of Dermatology for Huashan Hospital, Fudan University in Shanghai, China (11/2006), Guangdong Provincial People's Hospital, Guangzhou, China, as well as a Visiting Professor of Dermatology at Number One Hospital of China Medical University (11/2008) in Shenyang, China.
Dr. Michael Gold is a board-certified dermatologist and cosmetic surgeon who oversees the various facets of the Center's operations: a combination of medical and surgical dermatology, cosmetic dermatology, aesthetic services, and research endeavors. Dr. Gold has earned a national and international reputation for providing patients with leading-edge technological advances and has expertise in all facets of dermatology and aesthetic care. The Tennessee Clinical Research Center is now one of the leading dermatologic research institutions in the U.S.
Dr. Gold speaks on national and international fronts, focusing on dermatology issues related to the use of lasers and energy-based devices, as well as the use of fillers and toxins in aesthetic and cosmetic dermatology. He lectures in venues around the world and is a sought-after contributor to educational meetings globally.
Neil Sadick, MD, FACP, FAACS, FACPh, FAAD
The head and founder of Sadick Research Group is Dr. Neil Sadick, MD, FAAD, FAACS, FACP, FACPh. Dr. Sadick is one of the most renowned dermatologists and researchers globally, and his multiple discoveries have strongly influenced and transformed the future of dermatology.
Dr. Sadick's prestigious list of titles include: Clinical Professor of Dermatology at Weill Cornell Medical College, President of the Cosmetic Surgery Foundation, Member of the Board of Examiners for the International Society of Hair Restoration Surgery, and Global Medical Advisor for Christian Dior Beauty, to name a few. Furthermore, Dr. Sadick holds four board certifications: Dermatology, Cosmetic Surgery, Internal Medicine, and Hair Transplantation.
Dr. Sadick is author, or co-author, of more than 500 articles in peer-reviewed scientific journals and has contributed more than 75 chapters of medical books. He has written or edited more than 10 books on cosmetic surgery, hair, and vein treatment. Dr. Sadick has also been a guest lecturer at more than 500 medical seminar classes and workshops worldwide.
Suleima Arruda, MD
Dr. Arruda, an internationally renowned board-certified dermatologist with a private practice in Brazil, serves as a Research Investigator at Sadick Research Group. Dr. Arruda has extensive experience in medical device development (lasers, radiofrequency, ultrasound, acoustic waves) and cosmetic dermatology (cosmeceuticals, neurotoxins, fillers, chemical peels, hair loss treatments) and brings the best of her global experience to Sadick Research Group. Dr. Arruda completed her medical training and fellowship at Sao Paolo, Brazil and is a member of the Brazilian Society of Dermatology, Brazilian Society of Dermatologic Surgery, the American Academy of Dermatology and Women's Dermatologic Society. She is an invited speaker in US and International Conferences and regularly publishes her clinical research in peer-reviewed journals.
This is a non-CME course.