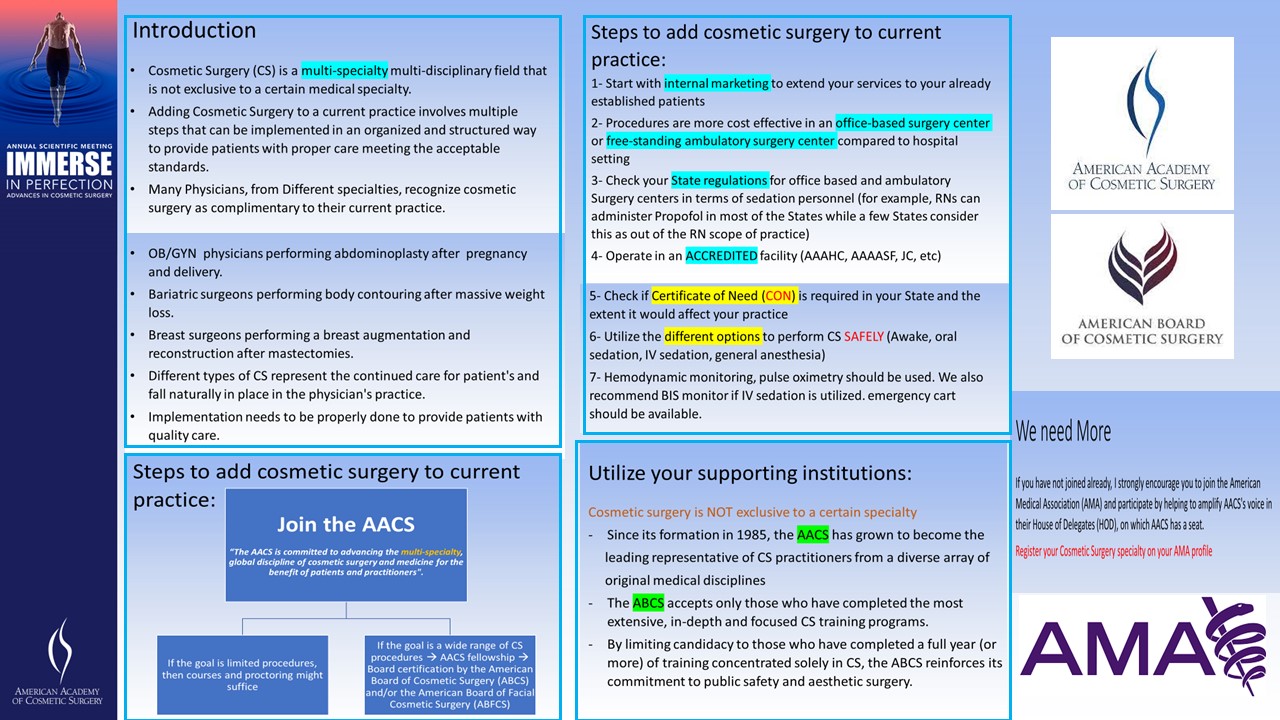 ---
Speaker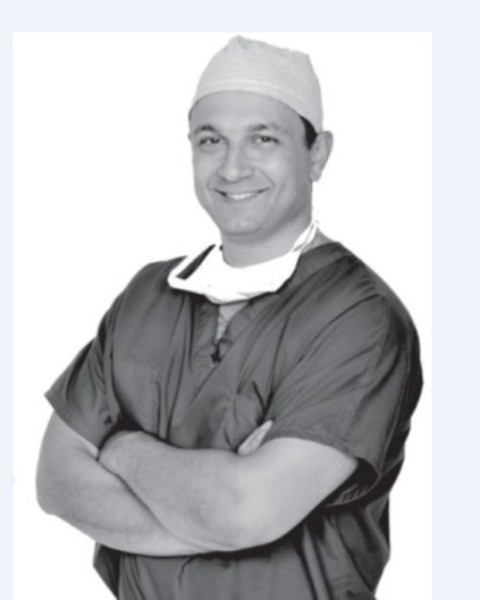 Ehab Akkary, MD, FACS, FAACS
Akkary Surgery Center, Morgantown, WV
Dr. Akkary started his practice in 2008 as an Academic Bariatric Surgeon and gradually shifted to Community based Cosmetic Surgery. He is Board Certified in General Surgery by the ABS and Board Certified in Cosmetic Surgery and Facial Cosmetic Surgery by the American Board of Cosmetic Surgery and the American Board of Facial Cosmetic Surgery. He practices in WV and PA where he performs wide variety of Cosmetic Surgery at AAAHC accredited facilities. Dr. Akkary is devoted to the field of Cosmetic Surgery, he is a Fellow of the AACS. He serves multiple committees at the AACS and the ABCS and he is a reviewer for multiple journals including JAACS.
Abstract
Introduction: Cosmetic Surgery (CS) is a multi-specialty multi-disciplinary field that is not exclusive to a certain medical specialty. Adding Cosmetic Surgery to a current practice involves multiple steps that can be implemented in an organized and structured way to provide patients with proper care meeting the acceptable standards. Many Physicians, from Different specialties, recognize cosmetic surgery as complimentary to their current practice. For example, OB/GYN physicians performing abdominoplasty after pregnancy and delivery. Bariatric surgeons performing body contouring after massive weight loss. Breast surgeons performing a breast augmentation and reconstruction after mastectomies. different types of cosmetic surgery represent the continued care for patient's and fall naturally in place in the physician's practice. Implementation needs to be properly done to provide patients with quality care.
Natural Progression and continuity of care
Steps to add cosmetic surgery to current practice:
Join the American academy of cosmetic surgery (AACS); "the AACS is committed to advancing the multi-specialty, global discipline of cosmetic surgery and medicine for the benefit of patients and practitioners".
If the goal is limited procedures, then courses and proctoring might suffice.
If the goal is a wide range of CS procedures, then an AACS fellowship program is recommended, followed by Board certification by the American Board of Cosmetic Surgery (ABCS) and/or the American Board of Facial Cosmetic Surgery (ABFCS).
Start with internal marketing to extend your services to your already established patients.
Procedures are more cost effective in an office based surgery center or free standing ambulatory surgery center compared to hospital setting.
State laws vary significantly, check your State regulations for office based and ambulatory Surgery centers in terms of sedation personnel (for example, RNs can administer Propofol in the majority of the States while a few States consider this as out of the RN scope of practice).
Operate in an accredited facility (AAAHC, AAAASF, JC, etc.).
Check if Certificate of Need (CON) is required in your State and the extent it would affect your practice (Example, WV requires CON to administer general anesthesia while other States don't have such requirement).
Utilize the different options to perform CS safely (Awake, oral sedation, IV sedation, general anesthesia).
Hemodynamic monitoring, pulse oximetry should be used. We also recommend BIS monitor if IV sedation is utilized. emergency cart should be available.
Utilize your supporting institutions:
Cosmetic surgery is NOT exclusive to a certain specialty
Since its formation in 1985, the American Academy of Cosmetic Surgery has grown to become the leading representative of CS practitioners from a diverse array of original medical disciplines
The American Board of Cosmetic Surgery (ABCS) accepts only those who have completed the most extensive, in-depth and focused CS training programs. By limiting candidacy to those who have completed a full year (or more) of training concentrated solely in CS, the ABCS reinforces its commitment to public safety and aesthetic surgery.
Take Home Message
Cosmetic Surgery is NOT exclusive to a certain specialty - Introducing Cosmetic Surgery to your practice needs to be done in a safe and structured approach meeting the standard of care.
Understand your specific State laws.
Utilize the resources and support of the AACS and ABCS - Register as a Cosmetic Surgeon on your AMA profile.